Submitted by
joanne
on
Tue, 06/05/2018 - 17:01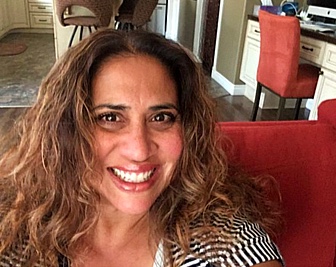 It amazes me how our journeys take unexpected turns in our lives. In March 2017, I thought my life was getting a little better after three years of family health issues, my father passing away and me turning 50.
My husband, 11-year-old stepdaughter and I had just come back from a wonderful and well-deserved vacation in Isla Mujeres, Mexico. One evening, while I was sitting on the couch browsing on my iPad, I noticed something was bothering me and later realized it was a loud ringing in my left ear. A few days later, I answered my cell phone and the person on the other end sounded like a character out of Alvin and the Chipmunks – high-pitched and static. That's the only way I could describe it.
I went to my doctor thinking that I'd perhaps picked up a bug in Mexico. There was no sign of infection in either ear, so I was referred to an audiologist who performed a hearing test that confirmed I had lost hearing in my left ear. She suggested trying a decongestant. When I went back a month later, a second hearing test showed further decline, so I was referred to an ENT specialist, who suggested there may be a problem with the "hammer" of my ear and referred me to another ENT specialist that I saw in October. After two appointments with him and a further hearing test, which revealed further hearing loss, it was concluded that there was nothing wrong with the "hammer".
Of course, with all the waiting between appointments, I turned to Mr. Google and discovered there was a tumour called an Acoustic Neuroma. Although I had all the symptoms, I didn't think I could have such a rare tumour. The ENT specialist said I could not possibly have an AN, and said my hearing loss was due to aging. However, he did say he could put me on a waiting list for an MRI exam, which could take up to a year here in Kelowna as there is only one machine at our local hospital. I told him I'd go next door and pay to have a private MRI done. He said not to waste my money – he'd try to get me in faster. Well, anyone who knows me would know that didn't fly with me! I left his office, went next door and booked an appointment.
Two days later, on November 2nd, I went to my family physician to hear the MRI results. When I saw her face, I said, "I have a tumour, don't I?" She confirmed that I had a good-sized tumour of about 3 centimetres. I went to my car and cried. I couldn't believe it . . . I did not think it would be this rare tumour I had read about. It was worth the $1,250 to confirm the diagnosis. I called my husband, who had been texting me repeatedly before going into an important meeting with his biggest client. I later learned that when his clients entered his office and greeted him, he burst into tears in front of them. I felt so badly!
Needless to say, I went home and cried all day and night for a week. Google became my best friend as I was obsessed with acoustic neuromas. I learned everything I possibly could about them, and I found the Acoustic Neuroma Association of Canada website. I emailed them and told them a little of my story to see how they could help me with resources. The next day, this woman called Carole Humphries, ANAC's Executive Director, came into my life. She phoned and talked to me and made me feel validated.
For the next three months, I drank good wine, ate bad food and cried. I was so angry at what life had given me, and that's how I coped. I talked to Carole a few times and we had some good laughs. I drove every doctor's receptionist crazy. Even the lady at the MRI clinic was getting a little upset with me, and I apologized as I got her to send discs to a whole bunch of neurosurgeons that dealt with acoustic neuromas. I couldn't believe I had to wait months to see someone. I learned that I didn't qualify for Gamma Knife because of the size of my tumour. Waiting was the hardest part. I had even considered going to the USA for surgery. I was the epitome of needy chick!
Fast forward a few months to when I finally got appointments with Dr. Westerberg in February 2018 and Dr. Akagami in April, both in Vancouver. By that time, I got myself together and started to accept the fact that I had a brain tumour. Dr. Westerberg's approach gave me confidence, and when I saw Dr. Akagami, I felt even better.
During the months of waiting and appointments, I was forced to find some humour because that's the only thing that has got me through this. When Dr Akagami was listing all the complications that can happen during surgery including not being able to swallow; my first thought was "Wow I'll finally lose those 20 pounds I need to lose!" Or when he was telling me I'll need weights on my eyes when I go to sleep I thought to myself, well there goes my sex life! That's so not attractive! It's been quite a year, but I have grown and learned so much. I have loved so much. I have been loved so much. My husband and I are the closest that we've ever been, and the support of my family and my wonderful friends have been unmeasurable. I will be having surgery in September in Vancouver with Dr Akagami and Dr Westerberg. I'm thinking positively that this will be OK. Whatever happens at the end of my surgery will have to be OK, because it's where life has taken me. I've learned to not worry about the small things and except whatever the day is bringing me. It has made me a better and stronger person and I've learned to laugh a lot more because that's the only thing I have to hold onto. I'm in a new club now. The people around me and the people that I've met and those who have helped me through this are part of my life forever.
I hope this helps anyone that reads this and is struggling. I truly believe that we are all put on this earth to learn and to grow and to become more evolved beings. Our experiences and struggles are what makes us. I know I am certainly a better person and even though I am extremely scared and anxious for my surgery, I have to let it go and let the universe take over. Thank you for listening to my story, and I hope you learn to embrace whatever life throws at you and not take it too seriously.
I leave you with my favourite words of Deepak Chopra. "Live in the present. The past and the future don't exist."