Submitted by
joanne
on
Wed, 10/07/2020 - 16:02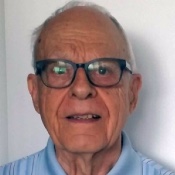 During 2011 and 2012, I experienced four episodes of horizontal double vision while driving. An optometrist could not detect any eye-related problems and suggested that the cause could be medical. My family doctor arranged for testing at a stroke prevention clinic. An x-ray detected no abnormalities, but an MRI showed a growth in my right ear, which I was told would have to be removed. I was referred to a neurosurgeon, who told me that I had an acoustic neuroma about the size of a pea. As these tumours can sometimes stop growing and not require intervention, my options were active surveillance (Scan and Wait) or surgery.
Since the tumour was small and I was not experiencing any major problems, it was suggested that I have another MRI in a year and review the situation then. Apart from the vision problems, I had vague symptoms consisting of light-headedness, minor balance problems and sound distortion in the right ear. The neurosurgeon saw nothing in the MRI that would explain the double vision. A referral to a neuro-ophthalmologist resulted in the diagnosis of a mild sixth cranial nerve palsy, which resulted in a prism prescription being added to my eyeglasses to alleviate the problem. Apparently, there was no connection between the acoustic neuroma and the sixth cranial nerve palsy, which I find difficult to accept, since they both occurred at the same time.
I began to notice symptoms associated with an acoustic neuroma in 2013. Walking the dog was difficult when she pulled on her leash, and I was afraid of losing my balance. Head movements resulted in increasing dizziness, and hearing in the ear with the acoustic neuroma ear was becoming worse, as confirmed by an audiogram.
The second MRI showed that the tumour had grown considerably. Because I was having symptoms, the neurosurgeon suggested it was time to consider treatment options. Unfortunately, I had poor hearing in one ear from a childhood accident, and the acoustic neuroma was on the side of what was my good ear. He said that if he operated, I would lose hearing in that ear, and suggested Gamma Knife would be effective with the benefit of possibly preserving hearing for a longer time and a consultation was scheduled at the Gamma Knife Centre at Toronto Western Hospital.
When treatment possibilities for the acoustic neuroma had to be considered, I decided to learn more about acoustic neuromas. I found the ANAC website, became an ANAC member in 2013, and attended a Toronto Chapter meeting hosted by Kathryn Harrod and Lynda Nash, which was very informative and reassuring. Carole Humphries has also been in touch over the years and has sent me information and provided recommendations.
Following my assessment, I underwent Gamma Knife at Toronto Western Hospital on September 04, 2013 at 5:45 AM. I only experienced minor pain for a few days where the pins were used to attach the frame. However, during the next few months balance and dizziness during motion seemed to worsen. I contacted a nurse at Toronto Western and received a referral for vestibular therapy. The exercises were helpful, and I continue to do most of them at home. Hearing gradually declined in the acoustic neuroma ear to the point where a standard hearing aid would only amplify a distorted sound. A bicros hearing aid configuration, where a microphone is used on the bad side to transmit to a hearing aid on the better side, has been helpful.
My understanding is that Gamma Knife is effective in stopping acoustic neuroma growth in the majority of cases. Follow-up MRIs in 2015 and 2016 showed that the tumour was getting smaller. However, an MRI in 2018 indicated regrowth, accompanied by the start of new symptoms. I experienced occasional facial twitching and a change in taste sensation. Balance problems and dizziness were becoming somewhat worse. Another Gamma Knife treatment was scheduled, which took place on November 07, 2018. A follow-up MRI on May 08, 2019 seemed to indicate that the tumor was getting smaller, which was confirmed in an MRI on May 26, 2020. The facial twitching has disappeared, but I have recently developed watering in the right eye while eating.
Another MRI will be scheduled for May 2021. My understanding is that if the tumour starts to grow again, I would probably be a candidate for a third Gamma Knife treatment if needed, but it is unlikely, and third treatments are not common.
I am generally in good health except for imbalance, dizziness when moving, poor hearing and change in taste when eating, which I attribute to the acoustic neuroma. Walking has become more difficult, partly because of arthritis, stiffness, and loss of muscle mass, which is not unexpected at age 79. Using a cane has been helpful. I am trying different exercises to maintain mobility and have recently taken up Nordic pole walking. It was unfortunate that the acoustic neuroma affected what was my good ear and I now have to rely on hearing through what was my bad ear. Even with a bicros aid configuration, understanding speech can be difficult. Driving used to be enjoyable, but I now avoid long trips and heavy traffic and therefore have not had a problem.
My wife and I recently moved from Brampton to a condo in Oakville to be close to our son and family. There are many seniors in our building and several in our age group have more severe health problems and are less mobile than we are. We are fortunate that we can still do most of what we want to do, for which I am thankful.
On another note, I have been participating in a Mayo Clinic study "Prospective quality of life in patients with acoustic neuromas" with Dr. Mathew Carlson and Dr. Michael Link since 2017.