Submitted by
joanne
on
Wed, 05/05/2021 - 11:41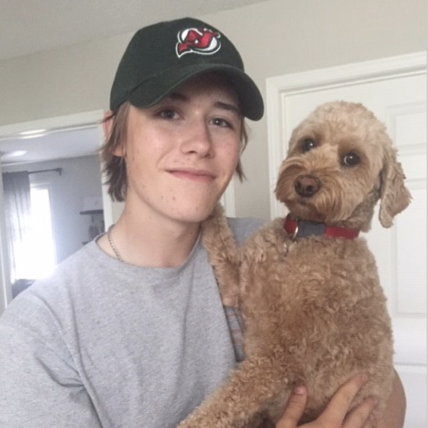 It all started in my Grade 9 homeroom classroom. The teacher didn't mind if we listened to music so I had both my headphones in but realized that I couldn't hear much of anything in my right ear. I assumed that my right headphone must be broken. For the next few months, I only ever used my left headphone. I finally realized that it wasn't a problem with the headphone at all, but with my actual ear. I didn't tell my parents right away because I didn't think it was a big deal; I thought that my ear might just be plugged because of a cold or allergies. Boy was I wrong!
After a few weeks I finally told my parents about my hearing issues. We went to my family doctor to see what was the problem, thinking it would just be a wax build up. The doctor looked in my ear but couldn't see any visible problems. He suggested that I go for a hearing test and also referred me to an ENT specialist. The hearing test didn't go too well and the ENT ended up sending me for an MRI. The results revealed the problem: a 2.5 cm mass on my acoustic nerve. An acoustic neuroma was a term I'd never heard before but one I would become far too familiar with. I just kept thinking, "How can this be possible? I'm a kid!" My parents and I did a lot of research about my condition and found ANAC, which turned out to be a huge support.
Since I was still a minor, I was sent to the Hospital for Sick Children in Toronto (SickKids), where I stayed for a few nights. During my stay at SickKids, they ran different tests and monitored me to confirm the diagnosis. This was very weird for me as I felt completely normal and like myself. The doctors explained that although the tumour was benign, it was extremely rare in children and could be very serious. After a lengthy discussion with the physicians, myself and my family, my doctors recommended waiting and monitoring what happens, as this type of tumour is slow growing. Every three months, I would go to SickKids for a series of tests, which included an MRI and a hearing test.
After my mom reached out to ANAC, its executive director Carole Humphries suggested she attend the World of a Vestibular Schwannoma Symposium in 2018, where she would have an opportunity to approach Toronto Western Hospital's Dr. Gelareh Zadeh in person, one mother to another. The first request had been turned down based on the policy regarding care for children.
As a result, Dr. Zadeh, called by some a rock star in neurosurgery now head of neurosurgery at the University Health Network and Director of Krembil Brain Institute, was brought on to work with a team of doctors at SickKids. I felt very lucky to have so many experts taking care of me. The tumour continued to grow but I was having no symptoms other than hearing loss. Being an active 15-year-old kid, I went on with my life: going to school, playing hockey and hanging out with friends. Over the years, I never felt like this tumour was holding me back from doing anything; it was just something that I lived with. My hearing never got much worse and I just learned to deal with it. The scary part was that I knew at some point I would need to get surgery to remove this tumour but I didn't know exactly when.
It wasn't until I was seventeen that the doctors at SickKids Hospital and Toronto Western Hospital agreed that we should go ahead with surgery. I was very nervous in the weeks leading up to my surgery but the doctors and my family were very reassuring. The uncertainty of what would happen post operatively – was what scared me the most. I had come to terms with the fact that I would most likely lose some if not all of my hearing in my right ear but there were many other complications that could occur.
On the day of the surgery, I tried to stay as calm and level-headed as possible. I walked in through the hospital doors with my head held high, ready for anything. On the inside I was freaking out. Once I was in the operating room, the surgeons and nurses were very friendly and kind. I remember them asking me what I would be doing at that moment if I wasn't at the hospital. I said I would probably be out golfing with friends. The conversations that I had with the nurses in the minutes leading up to my surgery comforted me and reassured me that I was in the right place to get this surgery done. Within ten minutes, I was asleep.
For me it was a very quick procedure; I went to sleep, then woke up. ln reality, it took close to ten hours. I woke up in the ICU and was asked to perform different exercises with my face to see if I had lost any facial function. Luckily, I had not. At this point I could barely keep my eyes open; I was so tired. I was taken to the recovery room, where my mom was waiting for me. Since my surgery was done during the Covid-19 pandemic, I was allowed only one visitor at a time. Because we live in Uxbridge, my parents took time off work and booked a hotel close to the hospital so they could be there at this very important time in my life. This meant that my mom and dad were able to take shifts to be with me. They would each spend 24 hours with me and then switch over.
After a day in the recovery room, I was up and walking, I didn't have much energy at that point and could only stay awake for a few hours at a time. I was discharged from the hospital after only three days and went back to my home. I wasn't able to do much physically for about a month. But now almost three months since my surgery, I'm feeling almost 100 percent except for my loss of hearing. I'm "learning to live with it."
I am going to school, working and going to be able to get back on the ice to play hockey in 2021. I am getting ready to go to university this coming year and hope to attain a business degree. I just had another MRI done at Markham Stouffville Hospital and had a consultation with Dr. Zadeh over the phone. She said that it is looking very good and healing properly. From now on, I will only need to get MRIs done every six months to a year for the time being.
I am just very thankful for all the doctors and nurses that helped make this process as good as it could be, and, of course, to my parents for going the extra mile to support me. I was very lucky and blessed to come out of this surgery with very few issues. What I have learned through this process is that by staying positive and surrounding yourself with positive people, you can get through anything.